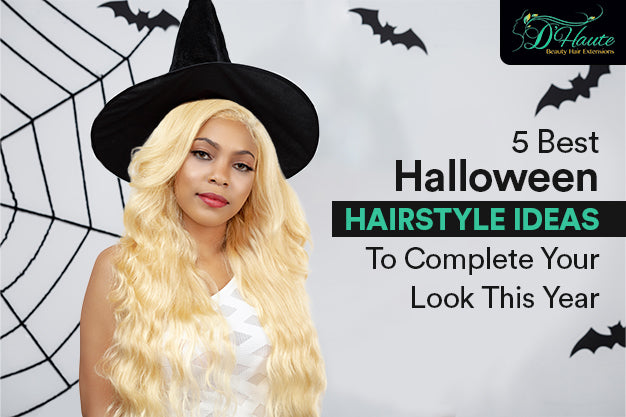 Hair can make or ruin a Halloween costume. If you enjoy the thrill of a last-minute DIY Halloween costume, there are a variety of basic hairstyles to choose from. Here are ten deceptively simple styles to try this Halloween, inspired by some of your favorite celebrities and characters.
Harley Quinn Pigtail
Most people's favorite Halloween costume is Harley Quinn. Why? Who wouldn't want to walk around with a baseball bat and pink and blue pigtails? The style is straightforward: Coat each pigtail in a different color using a blonde wig and a pink and blue spray can (or hair wax).
Jessica Rabbit
Jessica Rabbit's hair is shiny and side-swept, and it's essential yet seductive. A red wig never goes wrong. D'haute has the best hair products for any need. Whether you're looking for a colored wig or extension, they have got it covered. 
Beyonce's Beychella Ponytail
Beyonce's Coachella performance was historic for several reasons: she was the festival's first black female headliner, she paid homage to historically black colleges and universities, and she offered us a slew of unforgettable looks, including her curly ponytail. Separate the hair in half, gather the top half into a ponytail, and allow the curls to fall into the bottom half to achieve the half-up-half-down look.
Cruella
After all, Cruella's half-black, half-white hair and a characteristic red lip aren't they the perfect Halloween hairstyle and costume? A block-colored black-and-white wig can be found almost anywhere, and it looks great with a smoldering eye-makeup look. So believe us when we say that the iconic Cruella de Vil haircut is perfect for Halloween.
Rockstar Volume
As we all know, substantial volume curls are always in style, but they're trendy around Halloween because the look can be worn with several outfits. If you aim to achieve this look without much stress, head to our website and buy the curly hair bundle at incredible prices in our Halloween sale.
D'haute Halloween Sale 2021
If you want to purchase a perfect hair wig or products to up your hairstyle game this Halloween, then we have got it covered.
Visit our website and get 20% OFF right away this Halloween.
And we also have a spooky little surprise for you too!
---