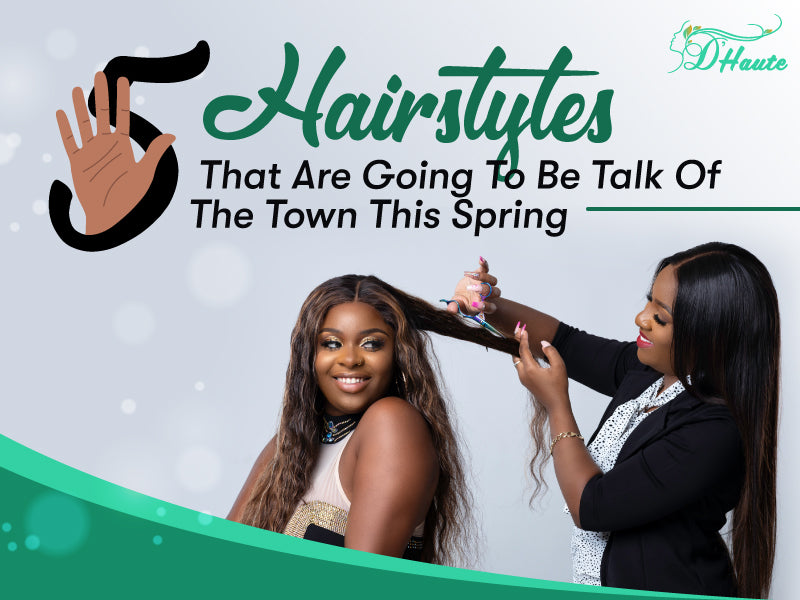 2022 brings a whole new world of new hairstyle inspiration this spring. You can reinvent a new look for yourself each season, but nothing beats a new hairdo if you're looking for a quick change. This spring is all about experimentation, whether you want to cut or add
hair extensions for women
to give yourself a more refined and fuller look. 
Some hairstyles have been "in" at one point or another, similar to hair-color fads, and the majority of them never actually went out of style. If you're thinking about changing your look, this blog will help. You'll want to show it to your hairdresser!
Even if you have to modify your preferred hairstyle to your particular hair texture, color, and face shape in the end or add hair extensions or
hair wigs for women
to add extra "oomph" this spring.
Here Are The 5 Hairstyles That You Would Want To Try This Spring:
Textured Hair:
In a world when hair extensions, exotic coloring colors, and thousands of other looks are available, a brief period of a natural look is often appreciated. Spend some time getting to know yourself and allowing your innate beauty to shine.
Curly Bang Hairstyle:
During the summer of 2022, the curly bangs hairstyle will give you an innocent barbie doll look that you'll love.
Bob Cut:
The blunt bob has been trendy for a long time, and it's simple to see why. The bob hairstyle is one of the most popular ideas for 2022 because it is attractive, easy to maintain, and conveys a sense of feminine self-confidence. 
The bob hairstyle trend is expected to continue in 2022, but I believe it would be wiser to move away from the sharp angles and toward a gentler, more textured version.
Imagine a softer version of the classic blunt bob with a bit of texture at the ends.
Shag:
A layered 1970s hairdo with untidy bangs and a rock 'n' roll attitude. With freshly updated twists, the shag has had something of a renaissance.
The modern shag differs from the classic 70s look by including additional texture, which gives a playful, retro hairdo more energy and face-flattering softness.
Get the
best hair products
at discounted rate visit dhaute now because we know how much you love discounts.
Hair Layers:
Layered haircuts give your hair a unique volume appearance. So, if you need a new haircut but are feeling uninspired at the moment, I'd suggest a modern layered cut.
If you want a hairstyle that makes you stand out, visit Dhaute. We have the
best women's hair bundles
,
lace wigs, and hair extensions.
---