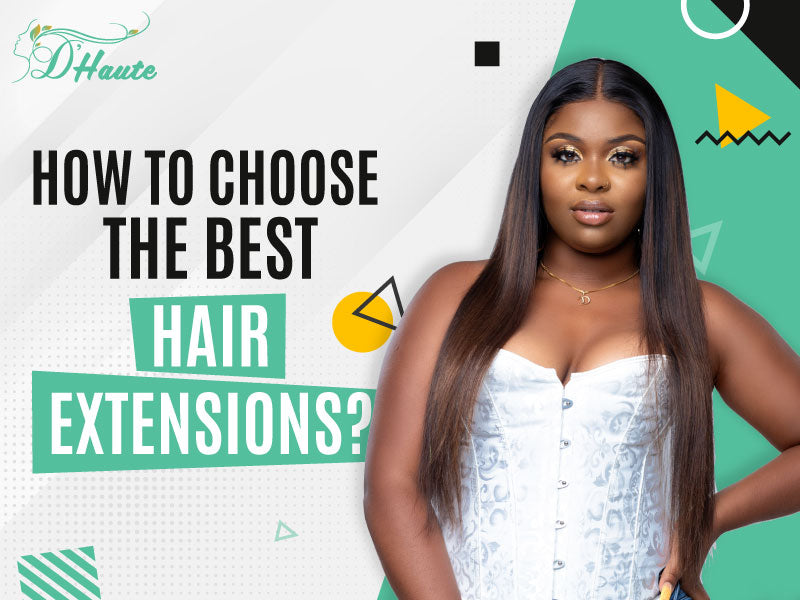 There are days when you just don't look the way you want. And you wish to have hair like Rapunzel, those lengthy locks which are irresistible.  
If you're one of them, hair extensions for women are what you'll need. No, Rapunzel didn't have them, but the superstars you idolize certainly do when they flaunt their locks on the red carpet. You, too, can get this appearance. Choose your hair extensions for women correctly, apply them, and maintain them with high-quality hair straighteners and brushes.
Here are a few things to keep in mind regarding hair extensions and hair wigs for women. Because there are so many different types and styles of hair extensions to choose from, you must think carefully about what you want. They come in various colors, lengths, and thicknesses, so you must select the best hair products that meet your preferences and demands. When it comes to hair extensions, you must consider four other variables in addition to the price, final appearance, and salon.

1. The Material
There are two primary hair extensions available: human hair and synthetic hair. As its name suggests, the former is constructed entirely of natural human hair from top to bottom.
Human hair extensions are a fantastic alternative. Its cuticles are all intact and better aligned than most. In addition, human hair extensions are regarded as smooth and silky, so you can rest assured that they will not tangle.
At dhautebabe you can find the best curly human bundles, lace wigs & wavy hair extensions at an affordable rate—luxury under your pocket. 
Synthetic hair extensions are made entirely of synthetic, finely blended fibers. The synthetic extensions, of course, do not include any human hair, but the plastic used to build them is designed to appear and feel as close to natural human hair as possible.
2. Reliability
You must look for high-quality items in anything you purchase. For example, women's highest quality hair extensions are made of human hair available in hair extensions. With proper care of your human hair extensions for women, they can last up to a year.
On the other hand, synthetic hair extensions can get the same effect and are less expensive. On the other hand, synthetic extensions do not last as long as human hair extensions. However, they can survive for one or two months if adequately cared for.

3. Appearance and Feel
Hair extensions come in various styles and colors, giving you many options; nevertheless, they differ in how they appear and feel. Women's synthetic hair extensions can feel stiff and act differently from natural human hair. They may feel coarse or wiry, and they may not mix in with your natural hair perfectly.
So, if you want something that appears incredibly realistic with your natural hair, human hair extensions are the way to go because they may act just like your original hair.

4. Styling and Treatments
Human hair extensions can handle the same treatments and styling as natural hair because they are created from real human hair. So it doesn't matter if you want to bleach, color, curl, or straighten your human hair extensions; you can do it all with ease.
On the other hand, synthetic hair is the polar opposite: it is delicate, and you must be cautious with the treatments and styles you use on it. In addition, the heat from curling irons and straighteners and chemicals like bleach and hair colors can permanently harm synthetic hair extensions.
When considering hair extensions, be essential to look into your alternatives. Then, after doing your research, talk to a hairstylist for further information if you're still unsure. Get the best women's hair bundles, wavy extensions, and best hair products for hair extension for women.
Dhautebabe is a great place to go if you're seeking thick, high-quality best women's hair bundles. However, our best hair products are available worldwide, and the range of possibilities ensures that we'll have something to suit your needs. So please look at our hair extensions for women and hair wig for women collection right now and start purchasing!
---