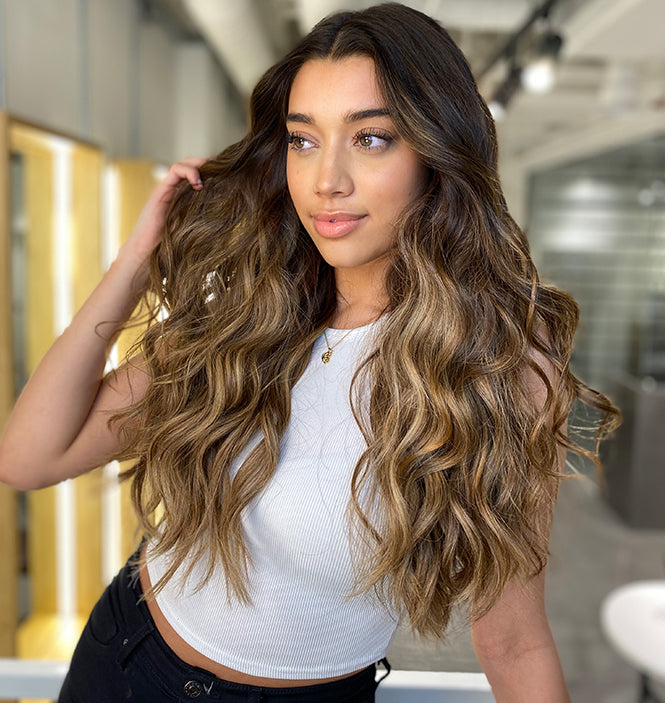 Sometimes bigger really is better, and with curls I say, "go big, or go home". But if your hair is fine or low in density it can dry like a wet blanket, close to our head without the lift and volume we see with other curls, and achieving maximum volume—without drying out your strands or sacrificing definition—can be a bit tricky. Luckily there are some tricks that fine haired curlies and anyone looking to amp up the volume have in their toolboxes.
Clarify Your Hair
If your hair is forever flat and limp at the roots, or just lacks all kinds of volume and definition, it may be weighed down by product buildup from your moisturizers and stylers or residue from hard water. The first step in the pursuit of volume is to clarify and remove anything that's holding you down by clarifying your hair. Think of clarifying as pressing the reset button on your hair. This type of deep cleaning gives both your strands and your scalp a fresh start, because it lifts any dirt and residual product from your hair. In order to maintain healthy, weightless, defined curls with volume, I recommend using a D'Haute  clarifying shampoo once every week or two, but you may find that clarifying once a month or less works best for your hair type and lifestyle and to always, follow up with a really good deep conditioning treatment! As a result, you'll find that your curls feel lighter, they look more lifted, and your styling products work more effectively.  
Rinse Upside Down
I discovered this tip by accident while washing my hair in a sink, but it really does help me achieve more lift at my roots. As a matter of fact, I believe that it is hands down (no pun intended) the biggest factor in how I get root volume in my curly hair. By tipping my head forward and allowing the water to run over my roots in the shower, my curls start to clump and form pointing up, instead of flat to my head. I apply all my products to my hair with my head constantly tossing upside down, flipping forward and side to side. By doing this I'm essentially "tricking" my hair to fall and be styled one way (upside down) only to toss it the other way (right way up) when it's dry. This causes the roots to stand up and creates volume.
Clip at the roots
Clipping at the roots is a widely used technique in the curly community. This technique is great for anyone with thin hair and/or loose curls or hair that can easily get weighed down by water/product. Usually this technique may be hard for beginners but the reason why is that they are using the wrong type of clip for their hair or that they are attempting to clip at an awkward angle. I use duckbill clips, they are the easiest to use without frizzing up your hair. To clip, after applying your styler or refreshing your curls just lift individual curls at the root, and pop the clip in so the curl stands up. Take the clips out once the hair is completely dry.
Diffuse
While air-drying is great for the health of your hair and is fine for my curl definition, it doesn't always help with volume. Wet strands are seriously weighed down by moisture, which is why your roots appear flat even once your curls dry completely. If I really want my hair to have that bouncy volume, then I absolutely have to diffuse. Diffusing your hair not only cuts down on drying time but helps to set your hair and keep it looking defined – while also adding volume. The trick here is all in the technique. Flip your head upside down (a common theme) and diffuse upside down, switching your part from side to side so that it doesn't set in one direction. Or an easier way would be to tilt your head sideways at a 45-degree angle so that your curls are lifted off your scalp. Hold that position while diffusing, angling the dryer up towards your scalp. When focusing on drying your roots, push the diffuser against your hair and lift upwards. This will help to unstick any hair matted on your scalp and give your roots added volume as they dry.
Fluff with Fingers
This might just be the most fun and easy way to get your curls as big as they can get! It's also best to do this only when your hair is already completely dry to avoid creating frizz instead of volume. Just spread your fingers apart and slide your fingertips into your roots and along your scalp, and give them a little shake. This will help to lift your hair off of your scalp and separate curls for that extra oomph.
Tease with pick
A hair pick is a must-have tool for adding volume in all the right places. This tool may typically be used by tighter, coilier curl patterns, but people with curls of all shapes and sizes can benefit from picking out their hair from time to time. For loose curls/waves, you can use the pick by placing it close to the ends and pushing the hair up towards the roots a few inches. Repeat this on different sections throughout your head. For tighter curls/coily hair, you can insert the pick at the roots and then pull gently towards the ends a few inches, to loosen up the curls closest to your head. Avoid using a pick on the top layer of your hair or picking through the ends—this will create frizz and be sure to be gentle with your curls when using this method, as you don't want to over-manipulate or cause breakage with the pick.
Get a haircut
A hairstyle that's all one length can weigh down your curls. If your hair is long and hasn't been trimmed in months, then the length of your hair may be working against you. The longer your curls are, the heavier they get. This stretches your hair, making your curl pattern appear looser and flatter. If your hair texture is on the finer side, this extra weight can also create a lot of separation between your natural clumps and sections, exposing a lot of your scalp and making the hair appear thin. A good haircut can help encourage a lot of volume by taking off all that extra weight and creating natural lift. A stylist will also be able to advise you on your specific curl pattern, density, width and length.
Use Volumizing Products (Mousse)
I tend to shy away from buying tons of "volumizing products" because nothing can actually make the strands of your hair wider, but there are some products that do help me achieve the appearance of greater volume. In my experience, it's best to stay away from heavy creams and gels when looking for voluminous hair. They provide lots of definition and help elongate your curls but they can also leave your strands heavy and stretched out, robbing you of volume. Instead, try mousses and foam formulas. They are ideal for creating voluminous looks, and their airy texture won't weigh hair down. Work a volumizing foam or mousse into your roots to create lift, then rake through to your ends to help define your curls. For more hold, you can always scrunch a bit of styling gel into your ends to prevent frizz. 
---