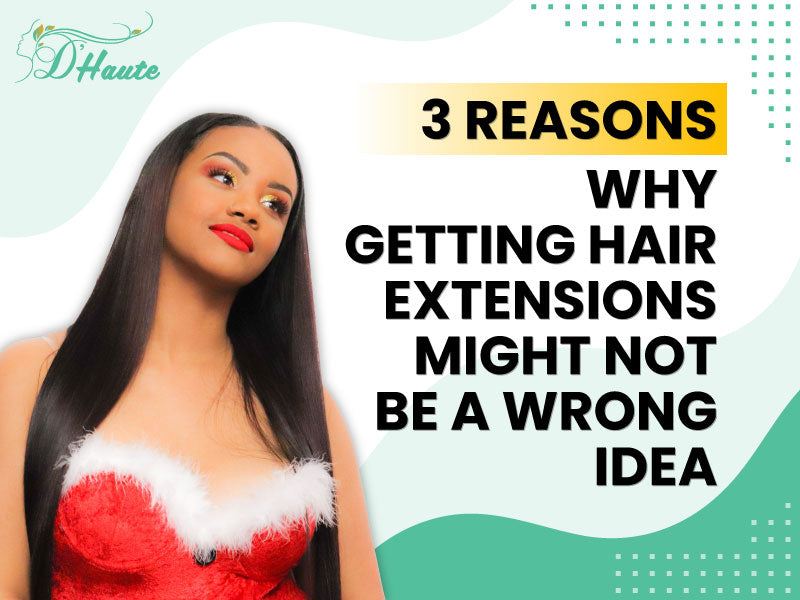 Hair extensions are also known as hair integration. They give a fuller and more extended look. They could be either made of natural or synthetic hair. Virgin natural hair extensions for women are the highest quality (and, of course, the most expensive) by keeping the cuticles of natural hair.
They have been in people's beauty regime for ages, but it's in the 20th century that they have risen back to the pedestal again. Celebrities frequently need to modify their haircuts for photoshoots, events, or red-carpet appearances. Hair extensions provide them the freedom they require. They can readily change their appearance as often as their job requires. 
So if you're wondering how to ace your every day by getting hair extensions, then we are here to help. Here are the three reasons why it's hard to say no to hair extensions for women:
Style Up Your Hair Game
With perfect hair extensions for women, you can ace your hairstyle game. We know how you want different and more trendy hairstyles for other occasions. Hair extension provides you with the option to achieve any look you desire without haring your natural hair. Or perhaps a dark-haired woman is continually looking for ways to brighten her hair color with highlights and is wary of hair blenching. They may quickly achieve these looks using hair extensions, which they can remove after the occasion.
When it comes to color options, extensions are fantastic because the harsh chemicals aren't in direct contact with your hair. Having some additional volume on the dresser might be very handy for someone rushing late to an occasion of any sort.
They're great for adding thickness but not so much for adding length to conceal a short haircut. 
Find the best hair products and hair extensions for women at Dhautebabe.
Experiment With Different Hairstyles
Many people are concerned about causing damage to their hair. Hair colors, treatments, chemicals, and other styling products can all impair your hair's natural texture and quality. Others may be bound by tight work policies that prevent them from changing their hair.
These people want to try out different hairstyles for a few days at a time. Hair extensions will allow them to experiment with a wide range of styles; getting wavy hair extensions will give you a different look than your everyday hair look. After witnessing how well a particular hairstyle suits them, they may decide to get it done to their natural hair.
Hair Thinning or Hair Loss
Hair is a person's crowning feature; hair loss or thinning can cause self-esteem issues. Various circumstances, such as aging or sickness, can be brought on. Whatever the cause, it's logical that one might be uneasy about it.
Hair extensions or hair wigs for women can help increase volume and length in certain situations. They mix in so well with natural hair, and they're also simple to apply and remove. They're non-invasive and won't cause any harm to your natural hair. 
They also help people regain confidence and feel at ease in their skin.
Women's hair extensions are an excellent method to experiment with several hairstyles without committing to one. They're simple to put on, maintain, and can be done in the comfort of your own home.
See us at Dhautebabe!
At Dhautebabe, you can find different hair wigs for women like lace wigs and hair extensions or the best women's hair bundles at affordable prices. We've been providing high-end hair wigs for women and hair extensions for women to people all over the world for years. Our products are exclusive to our store and online, ensuring that you will always receive high-quality items from us. Now is the time to order your next set of hair extensions!
---