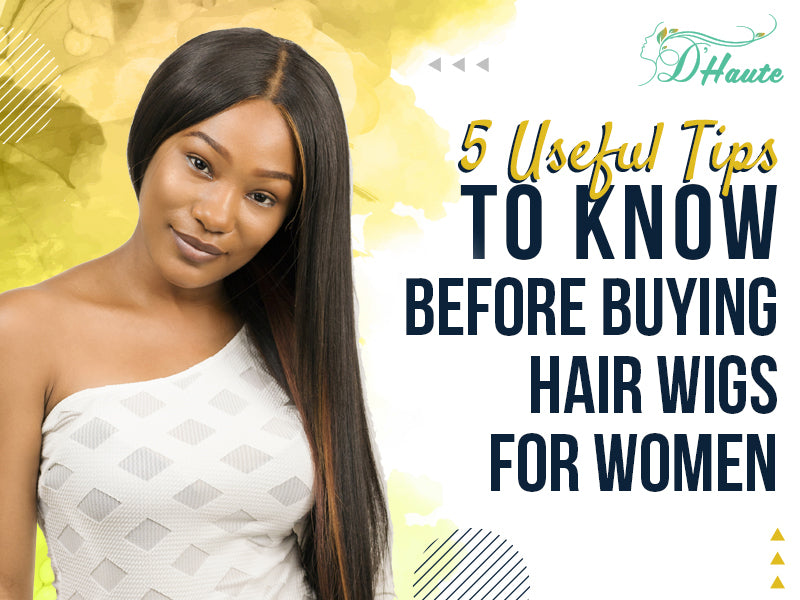 Wigs may give you a boost of confidence and add elegance to your everyday look. However, buying a wig only to discover it appears unflattering might be discouraging; no one wants to appear as if they're wearing a wig. That's why it is challenging to buy wigs and
hair extensions for women
.
So the question arises what you should look for in a wig for it to appear natural? Don't worry; we have got you covered. Here are the top 5 tips for buying
hair wigs for women:
It's all about the features of choosing the ever-desired natural look wig. When looking at wigs, pay attention to the hair kind, cap style, cap characteristics, and color.
High-quality hair.
The type of material used to form the locks is a significant distinction between wigs.
Polymers are used to make synthetic wigs.
Human hair wigs are produced from natural human hair locks that have been treated to last.
Synthetic hair is sometimes misunderstood as not seeming genuine. Synthetic wigs of high grade are nearly indistinguishable from real human hair wigs. In contrast, human
hair wigs for women
are heavier and react to elements similar to your hair, giving them a more lifelike appearance.
It's a personal choice to go with synthetic or human hair wigs, as both may seem natural and realistic. However, regardless of the hair type you choose, make sure it is good quality. Low-quality synthetic and human hair will give you away faster than anything else. Hair quality is generally higher in wigs created by well-known and trusted designers.
Wigs with Monofilament or Hand-Tied Caps are available.
A monofilament wig top is one way to locate real-looking wigs. Individually connecting hairs to a mesh region on the monofilament top creates a lifelike appearance. Hand-tied wigs provide this benefit, but instead of just a part at the top, the entire cap is hand-tied, giving the wig a more natural appearance and making it more comfortable.
Hair Color
Single-shade wig colors might have a "flat" appearance at times. Wig colors with highlights give your wig additional dimension and a more lifelike appearance. You could also want to consider a "rooted" wig or one having darker roots than the rest of the wig's hair. For best
women's hair bundles
in various shades, visit Dhaute. 
Wigs with Lace Fronts for Sale
Individual hairs are hand-tied to a strip of lace or mesh along the wig's hairline to create lace fronts. This gives your wig the appearance of a natural hairline, giving it a natural look and allowing you to shape hair away from your face. A lace front is required on wigs without bangs to achieve the most realistic look possible. While some people prefer lace fronts, others find them unsettling. A lace front is not required for a natural look if your wig includes bangs to conceal the hairline. Dhaute has just perfect
lace wigs & hair extensions, even curly human hair bundles to fulfill your amped-up style. Our Gabby, Glueless lace front wig
is just right for you if you're looking for long luscious locks in two shades.
Get Wigs From Certified Sellers
Always shop from a reputable wig shop that sells name-brand wigs to ensure you obtain a high-quality, realistic wig. If you buy a wig from a shady merchant, you risk getting a knockoff or a bad wig. 
If you have a hard time finding one, then Dhaute is the place. Dhaute has a wide array of products varying from the
best women's hair bundles
& hair extensions for women to the best hair products available just for you.
Finding the proper wig might be difficult, but with our advice, you'll be able to locate many wigs that appear natural! Visit Dhaute and find the
best hair products & wigs for women
.
---