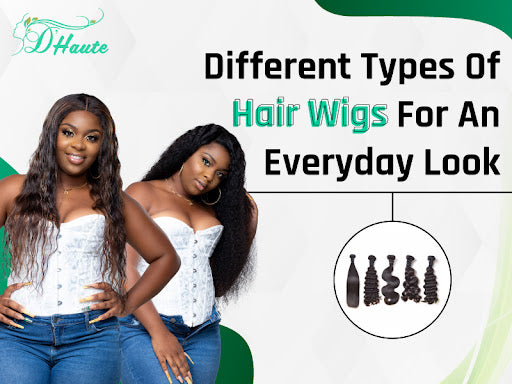 Nowadays, markets are full of wigs, choosing the best for you can be challenging. You must know whether you want a ready-made or personalized wig when choosing a hair wig for women.
Stock hair systems are ready-made wigs. They're usually made of synthetic materials, are pre-styled, and come in one size fits all. These units can be adjusted to the wearer's head for a somewhat more personalized option for a slightly higher price. Because these units aren't created to order for specific clientele, they have a less realistic appearance. They are, however, the most cost-effective solution.
Custom hair wigs for women are produced to order for a specific client. They're composed of lightweight fabrics and are therefore more comfortable to wear. Because these are custom-made, the front of the hairline can be given more attention. This is significant since the front of the hairline is regarded as the most crucial component of a hair system. 
If you're looking for the best women hair bundles, then Dhaute got you covered with its wide range of hair wigs for women available for all hair types.
Hair texture is another crucial factor to consider. If you're considering wearing a partial wig, matching the wig to your hair is critical for a seamless transition. For a more natural look, you need to also to think about the density of units.
Hair Types: Synthetic or Human
You need to choose between human and synthetic hair wigs for women, and within those two categories, there are various varieties to choose from.
Human Hair: This hair type has the most natural appearance, feels and styling options. This hair type also necessitates extra styling and maintenance. It may be worthwhile to buy because, with reasonable care, they can survive for over a year.
Virgin Hair: The highest quality human hair on the market. All of this hair comes from a single donor. This hair hasn't been bleached, permed, or coloured in any way. This reduces knots and, with reasonable care, can last for over a year. Although all Remy's hair qualifies as a virgin, not all Remy hair qualifies as a virgin.
Synthetic Hair: Higher-quality synthetic hair has a similar look and feel to human hair but limited style options. It's low-maintenance and may usually be worn right away after it's been unpacked. It will last 4-6 months and is less durable than natural hair with good care.
Heat Friendly Synthetic Hair: Because of its heat-friendly structure, this type of synthetic hair allows you more styling options. It's more challenging to style than human hair. Tradition with good carnal synthetic hair, on the other hand, can last up to 2-3 months with adequate care.
Furthermore, different types of wig material should also be determined when choosing a hair wig for women. Polyurethane ("poly"), mesh (lace and monofilament), combination, and open weft units are the four primary types of wigs. Full wigs, toppers (partial wigs), and hair extensions for women are all options for hair replacement, depending on your demands. Let's dive deeper so that you know precisely which wig to choose:
Polyurethane
Wigs made of polyurethane ("poly") are often thin and colored. This allows them to mix in with your skin tone. This skin-like texture makes it easier to use tapes and adhesives on the wig as a whole and also extends its life.
Mesh
Full lace and monofilament types are included in the mesh units category. Swiss lace, glass-silk, and 100 percent hand-tied systems make up the lace ensemble. Monofilament structures comprise single and double units that are 100% hand-knotted.
Combinations
Some monofilament types are hybrids, with a machine-made back and sides and a hand-tied top. This is less expensive while still providing your customers with nearly all the benefits of a hand-tied mesh unit.
Open weft
A capless wig (also known as a wafted or open cap wig) is one of the most popular wig styles, with many wig wearers preferring it. Wefts woven together form the cap's construction, with extra room between each weft for breathability and comfort between each weft.
If you want the best hair products for your curly human hair bundles, lace wigs or hair extensions, then D'haute is the place for you and your family.
---