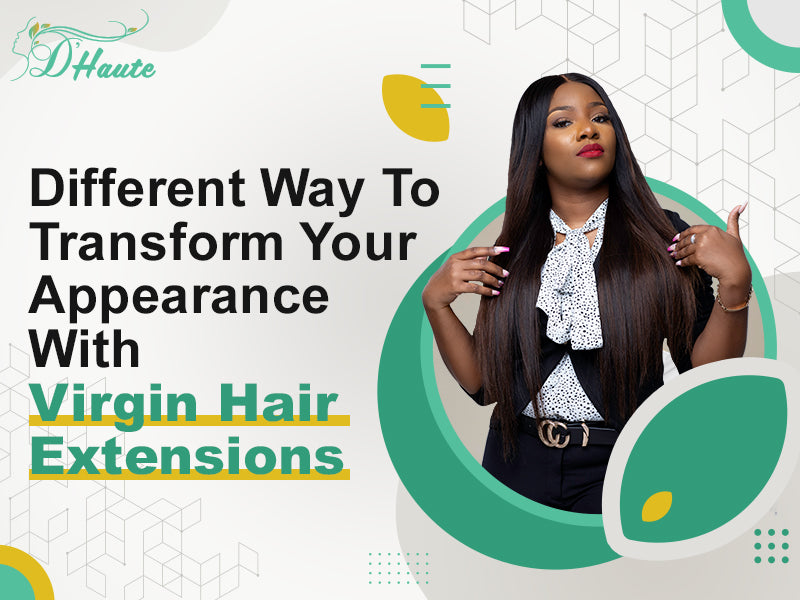 Hair extensions for women rapidly transform your appearance from drab to gorgeous. These flowing hairpieces, worn by celebrities, movie stars, and entertainers, may improve women's image. There are many different hair extensions & hair wigs for women to choose from, and you can always select ones that match your style.
Hair Extensions for Long Hair
If you have long hair, extensions can help you add body and volume to your locks. Hair extensions may add to lackluster locks and make limp hair appear healthier. You can also add curly human hair bundles, lace wigs & hair extensions to your style as you please.
It's simple to apply human hair extension for women to your hair. Stylists employ a variety of procedures to add extensions. Bonding is the technique of attaching human hair pieces to your natural hair with adhesives. Fusion is a similar method in which the stylist binds the hair to the tips of your natural hair using heat styling tools. You can also add wavy hair extensions to amp up your style. 
The hairdresser braids the existing hair and sews the extensions onto it during the weaving process. This type of extension installation is more durable than most others. Hair extensions for women can last up to eight weeks on average.
Hair Extensions for Short Hair
You can use hairpieces to give it more length and substance if you have short hair. Extensions are a terrific way to try out a new look without changing your hair. If your hair is short or long, it can be styled differently. The possibilities are unlimited with human hair extensions for women or hair wigs for women. Bonding is the primary procedure for temporary styles. This is typically reserved for significant occasions like weddings, proms, and celebrations.
Experiment with Texture
If your hair has always been straight, wavy hair extensions are the most acceptable option to experiment with. Rather than changing your hair, check out a new texture with human hair extensions. Because human hair extensions for women can be heat styled, washed, and cut in a wide range of styles and textures. Women's hair extensions are available in various shades and are great for experimenting with new appearances. Go for a muscular blonde or a flaming red to amp up your style. Human hair extensions for women can also be colored to match your hair color. Each extension is assigned a number that corresponds to the natural hair color.
Best women's hair bundles may completely change your appearance, giving you gorgeous hair that looks amazing in any situation. Hair extensions & hair wigs for women with long hair will instantly transform your appearance, whether you're getting ready for a night out or simply going to work.
For the best hair products & hair extensions for women, visit Dhautebabe and make every day a good hair day!
---